'Tis the season to Connect
Happy Holidays from all of us at QHR Technologies! With 2019 coming to a close it's a great time to reflect on the year that was, express our gratitude to all of you who've made our work matter in the healthcare landscape, and look ahead to what we'll accomplish together in 2020. Our efforts only count because you put our tools into action, and we appreciate the trust that represents. In this issue we're shining the spotlight on some of our remarkable customer accomplishments, recapping our most exciting technology changes, and giving you more tools and insights to kick Accuro into high gear. So grab a cup of nog and read on!
LEARNING CENTRAL VIDEOS
Time Efficiency
Speed up your daily routines in Accuro with these tips for adding macros on the fly, configuring medical history band views, and using hotkeys for faster navigation.
DOWNLOAD YOUR HOTKEY GUIDE:

Keep track of shortcuts and key commands in Accuro with the Accuro hotkey reference guide for PC or Mac. Click below for the free download.
TIPS & TRICKS
You can create quick-action buttons for things you do frequently.
From the Accuro Start Menu > File > User preferences > Display > Configure Actions > green plus button under 'Selections' list > Select Custom Action from dropdown menu > Set icon and colour > OK > Ensure "Dock Action Bar" is checked > Apply > OK
Your quick-action button(s) will now appear along the bottom of your Accuro screen.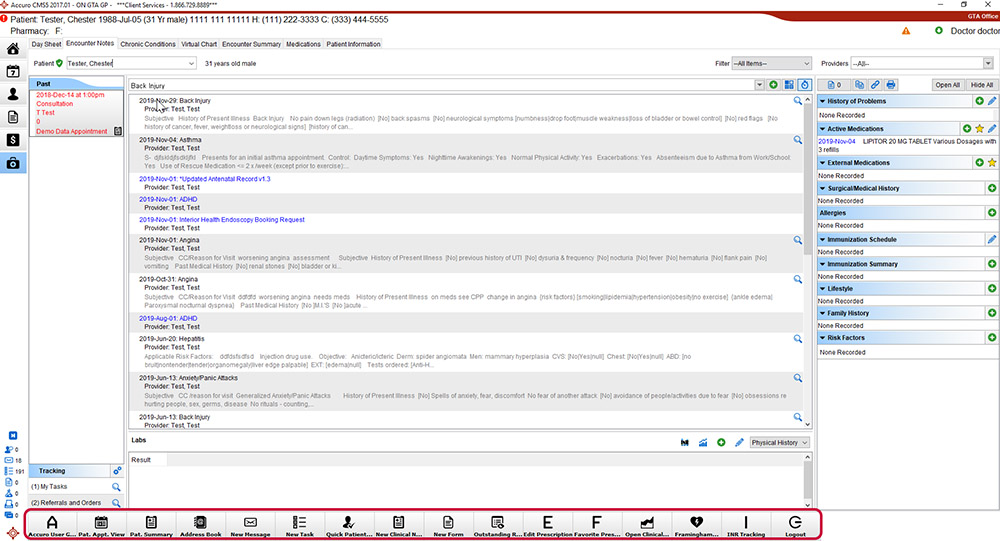 ACCURO CLIENT STORIES
Patients love it
"We've started using Accuro Patient Messaging to securely contact patients, and the patients love it. I'm able to send a message and avoid phone calls back and forth, I can attach results and send requisitions, and it's worked really well."
DR. RACHEL PARK
Leamington and Area Family Health Clinic, Leamington, ON
QHR EMPLOYEE SPOTLIGHT
We really care
"We really care about our people and want to see them grow and develop. I know other companies say that, but sometimes it's hard to feel heard in a sea of people. Even though we're a growing company, everybody matters and everybody's given the same opportunities. You really are your own limit at QHR."
COURTNEY STOKMAN
Human Resources Coordinator
Not receiving our newsletter?
Sign up below
* Indicates Mandatory fields