Efficient Medical Labs and Image Handling
Reduce time spent searching through multiple documents to monitor and analyze patient test results. Accuro EMR software brings you the data and insights you need the most to complete clinical duties…all from one screen.
Electronic Interfaces
Accuro has many interfaces with local provincial health authorities, hospitals, and private testing services that allow downloads of lab results, diagnostic imaging, and many hospital patient reports directly into Accuro, to ensure that your patients' results are at your fingertips.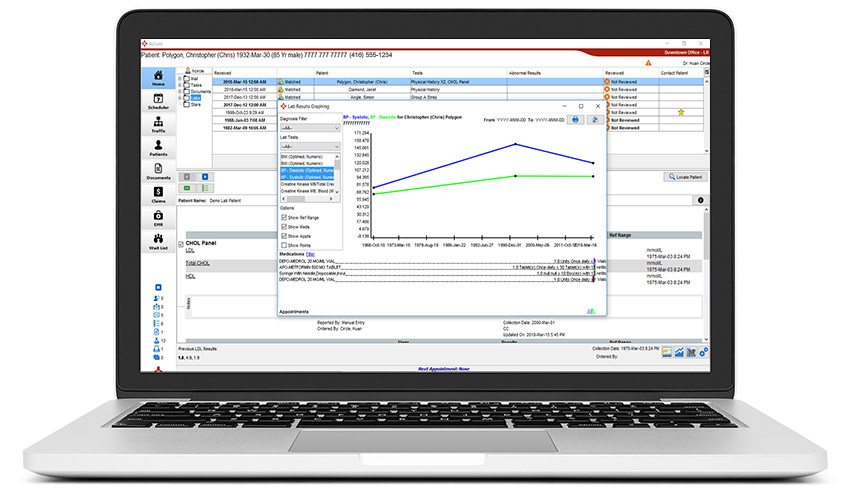 Trend Patient Results
Is your patient responding to treatment as hoped? Take immediate action on incoming testing documents by attaching them to a patient and comparing historical results, all in one click… And more:
Abnormal test results are highlighted for immediate review

Graph medications against the results to identify any drug related interactions

Customize the lab panels and patient chart medical bands to compare past results, allergies, medications and past appointment notes

Powerful side-by-side comparison of documents and images
Medical Document Handling
Simplify medical lab and image handling and maximize staff efficiency.
Review all incoming documents, faxes and scans in one central location

Easily manage and file documents into patient charts

Electronically notify the Provider when a document needs to be reviewed

Annotate documents or add a signature

Conveniently fax documents directly from Accuro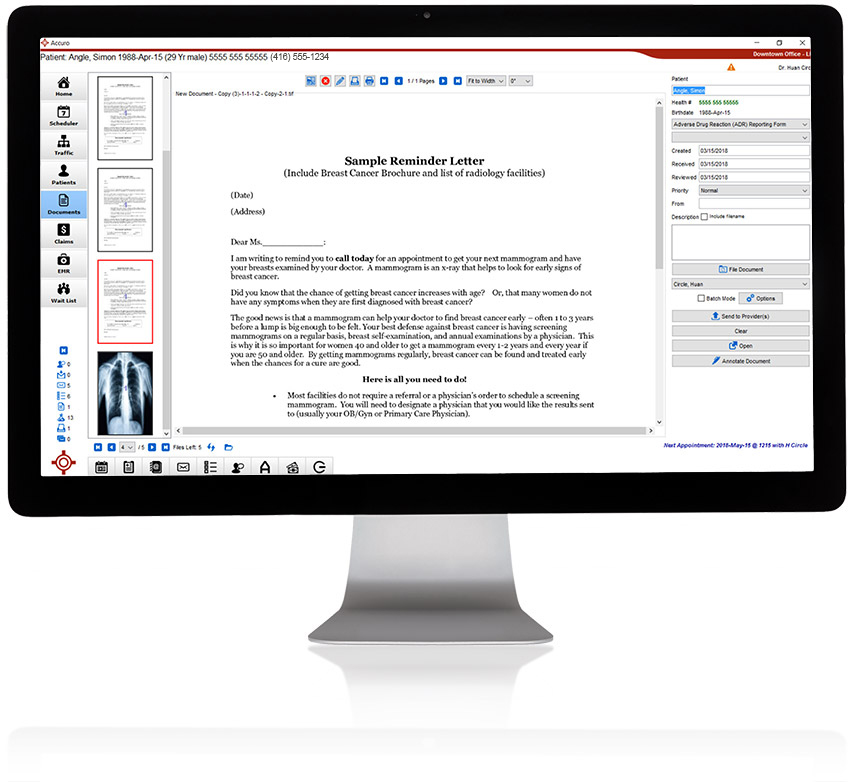 "Lab viewer. We get lots of blood work reports every week literally hundreds. The ability to view the important documents and labs on the same screen through the emr in addition to the ability to trend the result has transformed my workflow. I can pull the CPP and virtual chart simultaneously to compare results and trend. It saves so much time and facilitates a better visit." DR. VANDANA AHLUWALIA   |   CORPORATE CHIEF OF RHEUMATOLOGY
WILLIAM OSLER HEALTH SYSTEM

"Accuro connects me to key patient information I need quickly and conveniently, and like no other EMR I've ever used. I can easily track important lab results and view trends over time, all from one screen." DR. ILANA HALPERIN   |   ENDOCRINOLOGIST
SUNNYBROOK HEALTH SCIENCES CENTRE

"Efficiency in patient care - No longer am I fumbling through patient charts trying to find lab results or imaging. Everything is right at my fingertips with the medical history bands. The ease of use and prompt support always available" DR. THANU RUBAN   |   RHEUMATOLOGIST
ONTARIO

"Accuro has convenient requisition and referral workflows, and it even helps me track my patients with stents. It saves me time by pulling lab values directly into my encounter notes. The software also allows me to visualize lab values, such as PSA, and trend my patient's response to treatment. Accuro is built for the needs of specialists." DR. ZACHARY KLINGHOFFER   |   UROLOGIST
Toronto ON
Take immediate action on patient test results with Accuro's efficient document handling
What are you waiting for?