Streamline your workflows
Accurately understanding a patient's complete medication history is important, and ensuring all of their prescriptions are the correct doses and that there are no drug interactions is vital.
Accuro's Prescription Writer allows Providers to write and renew prescriptions in seconds, while ensuring that patient information is accurate and up-to-date. Accuro is configured to display your patient's medical history, lab results, allergies, and medications on the same screen for easy comparison and quick decisions, giving you the added reassurance you need.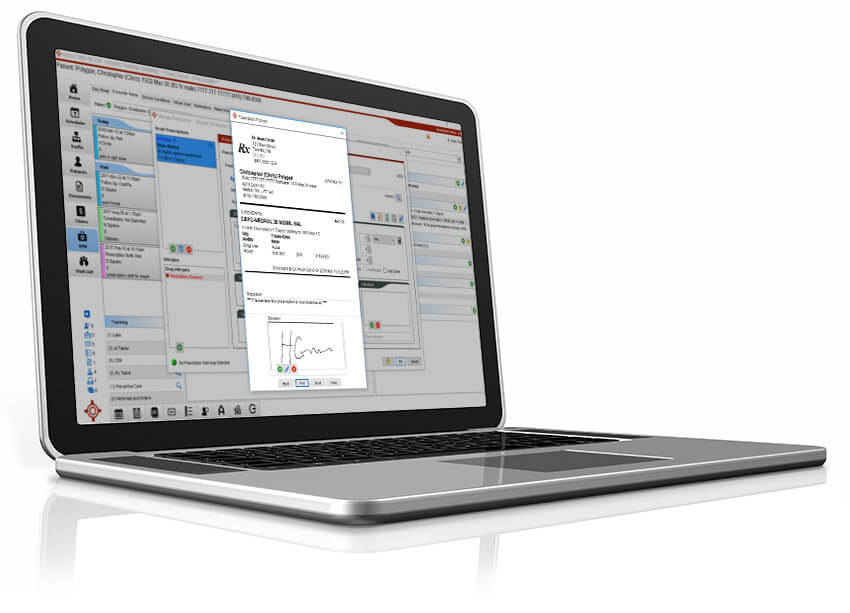 More Accurate Prescriptions

Annotate notes directly on the electronic prescription

Integrated Prescription Workflows

Electronically sign and fax prescriptions directly from Accuro EMR without printing OR print and sign manually. You choose your prescription workflows.

Convenient and User-Friendly

Create, manage, and track prescriptions for your patients
Renew prescriptions with the click of the mouse
Save your commonly used prescription settings for quick prescriptions
Accuro has partnered with the First Databank drug database to give Providers the best medication and dosage support system possible. Accuro's integration with First Databank ensures that drug lists, dosages, and medicine data are current and updated.
Streamlined Prescription Management Support
Medication history tracking

High and low dosage warnings

Duplicate therapy warnings
Powerful Electronic Prescribing with Built-in Safety. Accuro Prescriptions.
Book a Demo
What are you waiting for?