Powerful Letter Generation
By leveraging templates, macros and Clickable Words technology you can design medical letter templates that are extremely fast to fill out.
Letters for consults, requisitions, and referrals automatically fill in patient and Physician demographics and are saved directly to the patient's chart for future access. Valuable time doesn't need to be wasted when using Accuro's medical letter generation.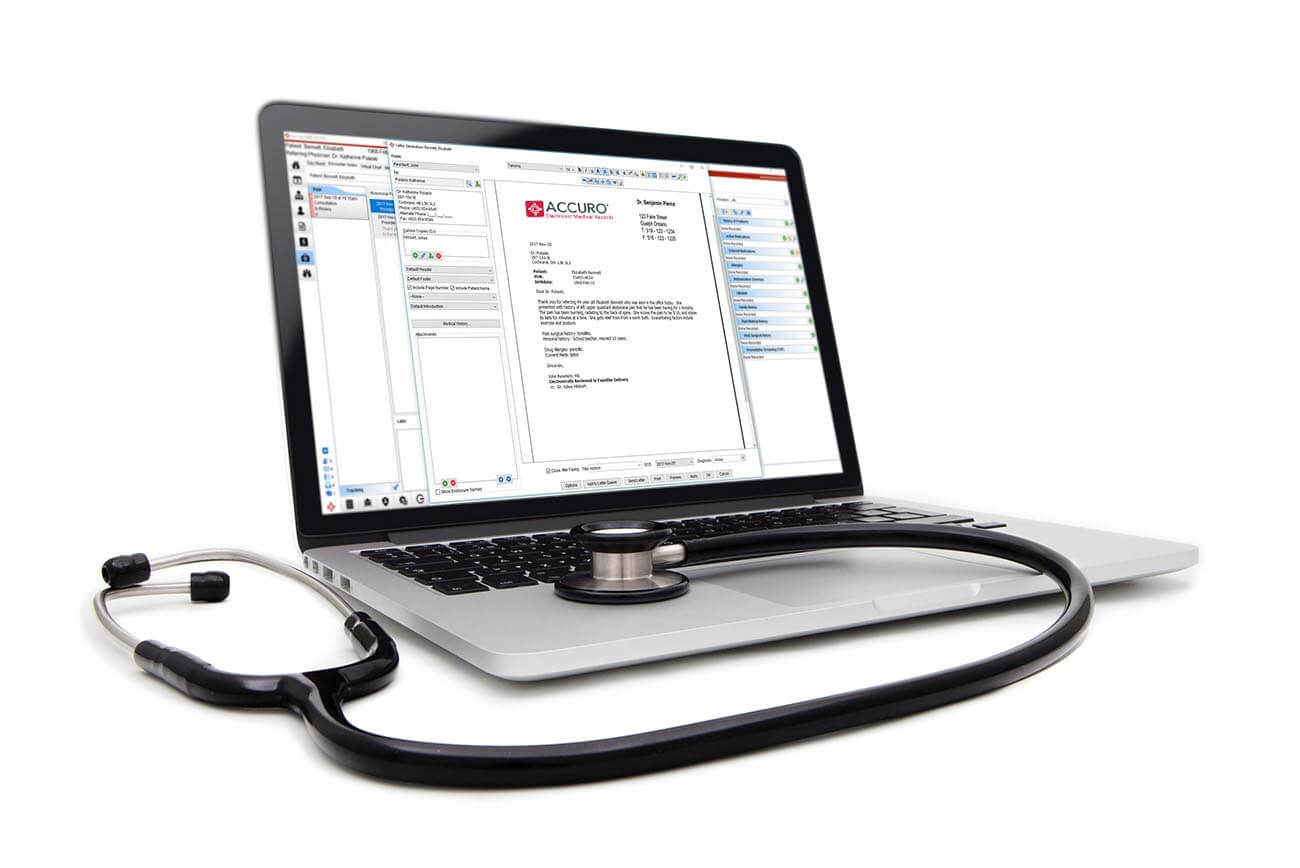 Fast Consults, Referrals and Requisitions
Quick Conversions

Instantly convert medical forms to template letters customized to your practice

Automatic Convenience

Quickly build letter templates that automatically pull in fields from the form

Customizable

Use Accuro's Clickable Words technology to customize your letter in seconds

Increase Efficiencies

Easily add the name and address of the referring/consulting physician from our convenient address book.

Seamless Integration

Electronically attach lab results, clinical forms, or other documents
Once you have generated your medical consult, requisition, or referral letter, it can be sent directly from Accuro via fax, without having to take the time to print and scan it beforehand.


DR. KAPASI   |   OPHTHALMOLOGIST
ANTIGONISH, NOVA SCOTIA

"I rely heavily on my form and letter templates. Once I have them done, it then greatly reduces my charting time and facilitates sending of referral letters." HOWARD D. GREEN   |   PODIATRIC MEDICINE
FOOT SURGERY & SPORTS MEDICINE

"Accuro has allowed me to increase my efficiency in endocrinology with the use of custom lab values and tracking lab data over time. With the use of templates, and specifically using form to letter functionality for my diabetes follow up, Accuro has allowed me to create a very customized flow sheet and extract data from the EMR for quality improvement purposes." DR. ILANA HALPERIN   |   ENDOCRINOLGIST
SUNNYBROOK HEALTH SCIENCES CENTRE, TORONTO ON
Generate medical consult, referral, and requisition letters instantly with Accuro EMR
What are you waiting for?