Manage Patient Waitlists, Referrals and Requisitions
Clinic staff spend a significant amount of time managing waitlists and following up on referrals and requisitions on behalf of patients. Entirely customizable for the needs of each practice, Accuro's Wait List provides a single location from which to prioritize and book appointments that do not have immediate availability. Fully integrated with Accuro's Appointment Scheduler, the Wait List module enables easy booking and cancellation.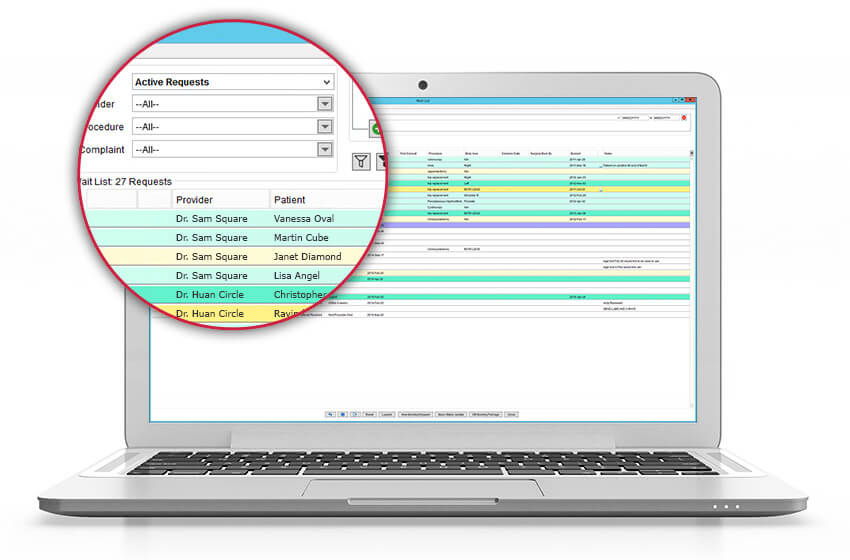 Conveniently manage waitlists by procedure, urgency, date, patient or waiting period

Quickly add, remove or recall patients

Access average wait times and number of patients waiting for various procedures

Create automatic alerts for patients on the Wait List longer than desired

Print or electronically fax Operating Room booking forms that auto-populate with patient demographics

Check off blood work and consent tasks
Requisition and Referral Tracking
Staff will no longer have to manually set reminders to follow-up on outstanding patient referrals and requisitions. From one screen, Accuro EMR software automatically tracks outbound Requisition Forms and Referral Letters from the time they are created to the moment they are returned to the EMR. One powerful click reconciles orders or referrals.  Clinic staff can also delete or create new orders.
"Accuro has convenient requisition and referral workflows, and it even helps me track my patients with stents. It saves me time by pulling lab values directly into my encounter notes. The software also allows me to visualize lab values, such as PSA, and trend my patient's response to treatment. Accuro is built for the needs of specialists." DR. ZACHARY KLINGHOFFER   |   UROLOGIST
Toronto ON
Manage your clinic's Referrals, Requisitions and Waitlists with Accuro's tracking capabilities
What are you waiting for?