Medical patient charting simplified
What if you could spend less time charting about your patients and more time actually with them? When you choose Accuro EMR you can. You don't need to spend valuable time scanning multiple screens to analyze patient data or to perform routine tasks. Accuro delivers the patient data and insight you need all from ONE Patient Chart screen.
It all starts with just one click of the mouse. From there, Accuro will lead you to where you need to be – quickly and efficiently. Users can complete encounter notes in seconds and they can take instant action directly from the patient's chart.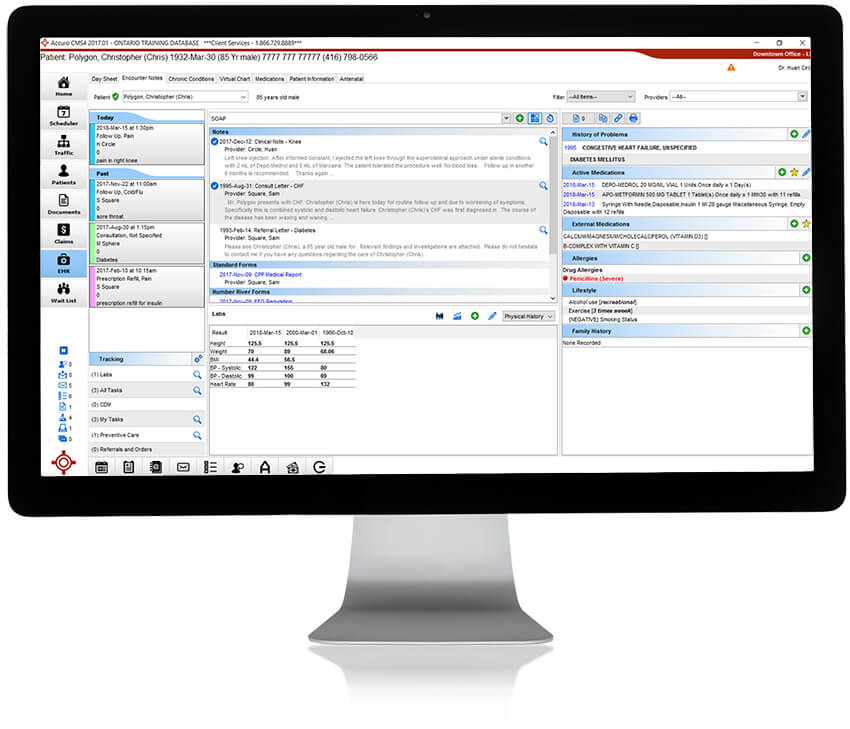 Accuro's Patient Chart is built for speed
Complete a note in seconds with Accuro's Clickable Words technology

Action your patient labs and results with one click

Prescribe and renew medications instantly with Accuro's Prescription Writer

Convert forms to referral and consult letters automatically
Take instant action from Patient Charts
Trend patient labs and vitals

View appointment history, allergies and medications

Order tests, requisitions and referrals

Attach reports and documents

View outstanding tasks and preventative care

Fax directly from patient charts
No other EMR gives you the simplicity and speed of charting like Accuro Medical Patient Charts.
Spend more time with your patients while increasing your efficiency and productivity, with Accuro EMR software.

"Since moving to Accuro from our previous EMR, our Doctors feel like their work is complete at the end of the day. Our doctors can provide better care in less time. The interactive forms have made it much easier. Notes are complete, billing is done and they walk out the door."


DIANNE PENZVALTO   |   MANAGER, FACILITIES & INFORMATION TECHNOLOGY
AVENUE MEDICAL CENTRE, BRANTFORD ON
Medical patient charts with Accuro EMR are built for speed, allowing you to leave at the end of the day with your charts done
Book a Demo
What are you waiting for?