Medeo offers providers a secure virtual care platform
As technology continues to integrate into our daily lives, why not use it to enhance the patient experience? For many patients, not every medical concern requires an office visit, and sometimes trips to the emergency room or walk-in clinic are simply unnecessary. What if there was a secure way for providers to engage with patients through video chats and online messaging? With Accuro, now there is.
Accuro EMR Software has partnered with Medeo to offer virtual care options for patients and providers, reducing the strain on physicians and other medical staff.  Through the use of secure video visits and messaging, physicians across Canada now have the ability to conduct hundreds of online visits a day - from consultations, expedited specialist referrals, injury and pain management, mental health counseling, prescription renewals, and more.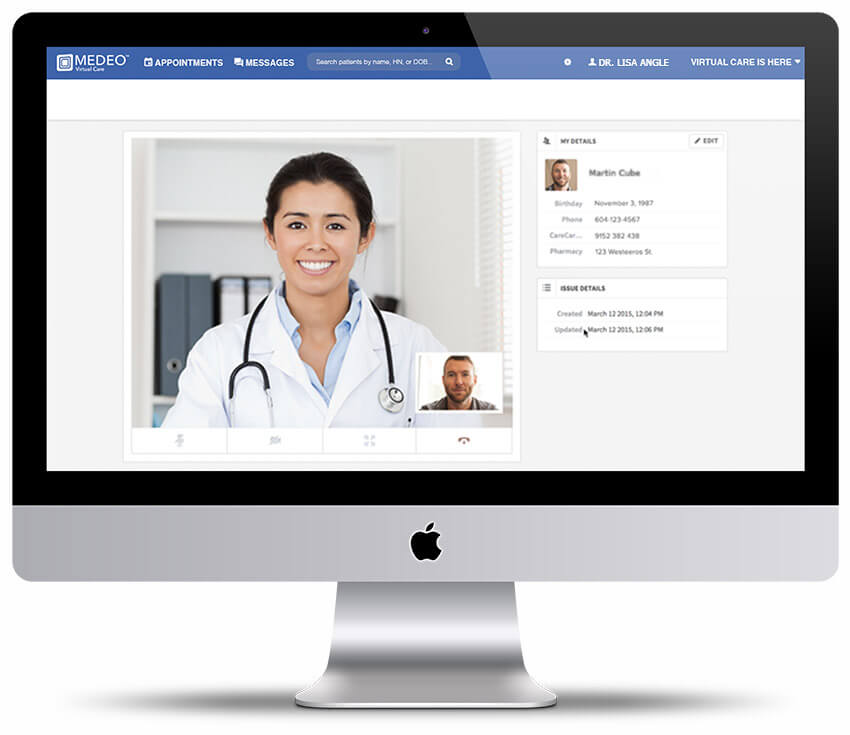 Provide video appointments for sharing test results, prescription refills, patient follow-ups, and more

Securely share documents and files with your patient

Reduce barriers due to distance or patient mobility issues
Use secure patient messaging for prescription renewals, lab results reviews and quick follow-ups

Both yourself and your patients can access messages and share files from anywhere, anytime

Messages are automatically filed in patient record for easy review and tracking patient progress
Unlike other video conferencing platforms, Medeo is built with the same security and encryption standards as military and financial institutions, providing added reassurance your confidential information will stay protected.
Positive

Medeo Features for You and Your Patients
Extremely user-friendly for both providers and patients

E-charting, clinic workflow and appointment management tools

Accessible through computer, iOS and Android devices

Patients can upload photo updates of their conditions to help with diagnosis

Provides patients access to care in the comfort of their own homes
Improving Patient Access and Empowering Physicians with Virtual Care
What are you waiting for?