Fast electronic prescriptions and Pharmacy messaging
It's vital that you have a full picture of your patients' medical and drug history, to ensure dosages are correct and interactions are avoided. AccuroEMR has ePrescribing support tools built in to ensure that you can write prescriptions fast and accurately, as well as communicate directly with Pharmacists.
Prescription clarification with Pharmacies gets even easier with the secure, email-style messaging of Accuro ePrescribe's tool. Send electronic prescriptions to pharmacies that use Accuro's ePrescribe's tandem application, FreedomRx. Stop playing telephone tag with pharmacists or wrestling with fax machines. Answer pharmacist questions or give quick clarifications with secure Pharmacy Messaging.
Scripts sent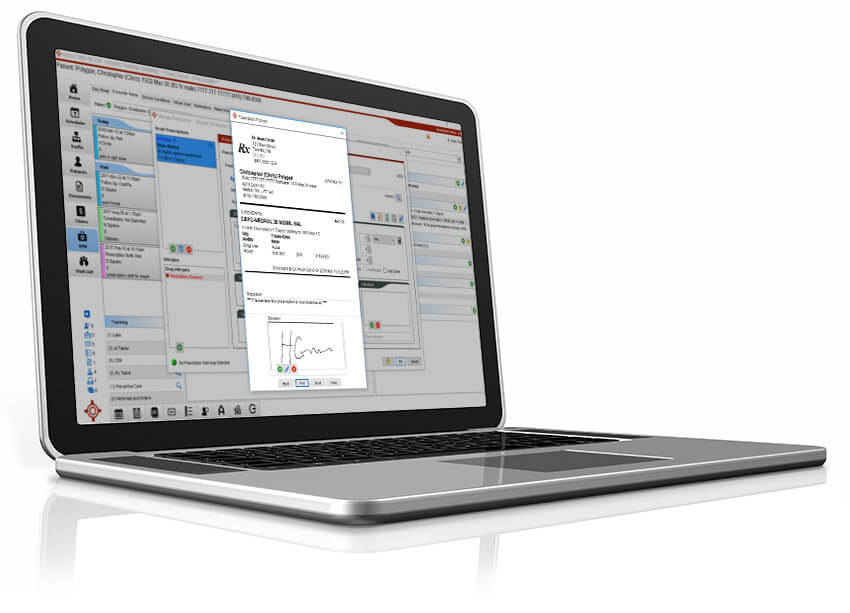 All on One Screen

The patient's medical history, lab results, allergies, and medications are displayed on the same screen for easy comparison. Write or renew prescriptions in seconds.

Integrated Prescription Workflows

Electronically sign and fax prescriptions directly from AccuroEMR without printing, or print and sign manually. Annotate notes directly on the electronic prescription.

Convenient and User-Friendly

Create, manage, and track prescriptions for your patients. Save your commonly used prescription settings for quick prescriptions.
ePrescribe Pharmacy Messaging and HealthMail
Send ePrescriptions digitally and communicate via electronic message with participating pharmacies. Accuro's ePrescribing communications are part of our new HeathMail platform. HealthMail is Accuro's messaging center for all outgoing communications to Patients, Providers, and Pharmacies.
Find out more about HeathMail by clicking on the button below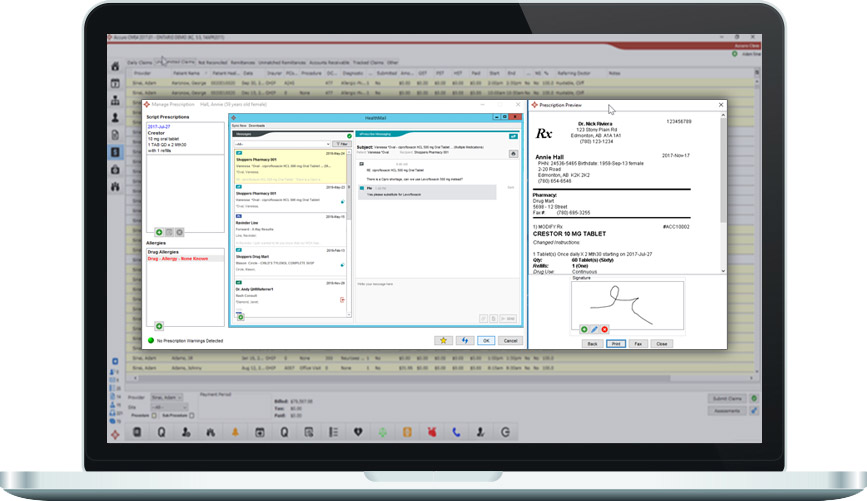 First Databank Prescription Management Support
Accuro has partnered with the First Databank drug database to give Providers the best medication and dosage support system possible. Accuro's integration with First Databank ensures that drug lists, dosages, and medicine data are current and updated.
Medication history tracking

High and low dosage warnings

Duplicate therapy warnings

"ePrescribe is a great tool that allows me to securely send prescriptions to pharmacies without having to provide any physical copies to the patient. From my perspective, there is no learning curve to the tool, as the workflow stays the same. It is a faster and more secure way to get the prescription to the pharmacy and communicate back and forth with the pharmacist. It is increasing patient satisfaction and decreasing their wait to fill their prescription significantly."
DR. VINEET NAIR | FAMILY PRACTICE
CORE FAMILY HEALTH CENTRE, LONDON ON